Nu-Drain Solid Wall Pipes, Fittings & Accessories
Supreme underground drainage and sewerage system has been designed for the modern man's inclination towards health and hygiene, and his aversion to filth and pollutants. Due to the unpleasant nature of human waste, a drainage system should be "out of sight, out of mind". Most of the drainage systems are actually hidden from sight. It is hence important that it should be of good quality and should be able to function year after year without leakage or defects. It becomes unpleasant and expensive to address such problems that arise in conventional underground products. Such problems may happen due to poor product quality or due to faulty construction and outdated technology.
Nu- Drain solid wall pipes are available from 110 to 400 mm sizes in SN 2, SN 4 and SN 8 classes conforming to IS 15328. Different types of fittings, accessories and traps are also available in the product range to make the system complete in all respect.
FILTER
Great flexibility - Due to the availability of readymade inspection chambers and manholes along with long lengths of lighter-weight pipes and different components, installation of this system is very convenient and fast.
Perfect hydraulic properties - Mirror smooth inside surface of the pipes and streamlined design of the chambers and manholes greatly reduce the possibility of a blockage and maximize flow characteristics. As a result, the carrying capacity of these pipes can be increased by 40% over concrete pipes.
Great strength - Products are sufficiently durable to meet site-loading requirements.
100% watertight system - The pipe, riser, or shaft connection with the chamber base is absolutely watertight, and the unique design of pipe joints with click ring and sealing ring makes the system completely leakproof.
Hygienic and safe - Trouble-free performance of the joints without blockages and leakages ensures high standards of hygiene.
Minimum excavation cost - Because of the simple jointing technique, trench width can be kept to a minimum and a smoother bore of the pipe allows high flow rates at relatively flatter gradients.
Different flow profile designs - Inspection chambers are available in different flow profiles/configurations of the inlet and outlet in different sizes to suit the site requirements. Inlets that are not needed can be closed with the help of blanking plugs.
Minimal maintenance - Optimum functional qualities and good hydraulic properties play an important part in reducing the need for jetting and other forms of maintenance and therefore operational costs are considerably reduced.
Longer life and the overall economy - It is free from problems like corrosion and susceptibility to chemical reactions and strong enough to carry soil and traffic loads. Nu-Drain is sufficiently durable and offers long & trouble-free service life.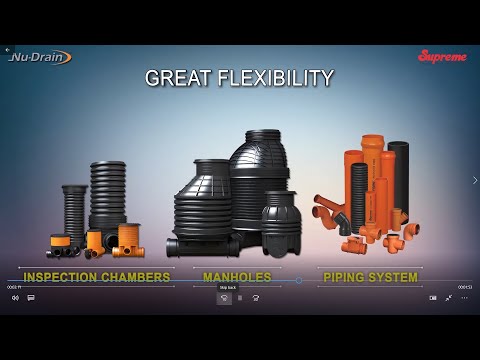 Product Usage Guide
Installation of Nu-Drain Solid Wall Pipes, Fitting & Accessories