Ultra Manholes
Access to a sewer system for inspection, cleaning, or maintenance is obtained either through an inspection chamber or a manhole. However, unlike in conventional drainage system, the requirement of entry of man in an advanced plastic drainage/sewer system comprising a readymade chamber or manhole is almost eliminated. In most cases modern technology CCTV inspection cameras for inspection and jet cleaners for cleaning are available. Most of the sewer maintenance requirements are fulfilled through Ultra 600, however, where man entry is a must, Supreme has now introduced Ultra 1000 and Ultra 1200 manholes. These readymade, ready-to-use manholes offered by the Company consists of a base, a shaft, and a cone with a suitable cover. In addition to this three-piece design, a single-piece design is also offered. This robust manhole is designed, manufactured, and tested as per EN 13598 standards. It is now approved by MCGM.
Nu-Drain Ultra readymade manholes are available in single piece and three piece designs, with different flow configurations and invert depths, conforming to EN 13598. Single piece manholes are available in 800, 1000 and 1200 mm sizes while the three piece manholes are available in 1000 and 1200 mm sizes.
FILTER
Completely made of plastic - ready to use, spacious (1m and 1.2m diameter) with 600/640mm entrance.
90% lighter than concrete manholes - makes them easy to handle and allows simple and quick installation.
Robust design - which can withstand heavy traffic loads up to 40 tons wheel load.
100% watertight structure - free from infiltration and exfiltration.
Smooth internal surface, less slime build-up, minimizing the risk of blockage.
Suitable for installation depths up to 6m
Safe against floatation
Flat bottom for easy and levelled installation.
Provided with an inbuilt ladder to facilitate easy maintenance and cleaning
Adjustable height to suit site requirements during installation.
Simple and reliable pipe connections at different levels are possible using 'in-situ' adapters.
Strong and durable - can last for more than 50 years.
Eco-friendly and cost-effective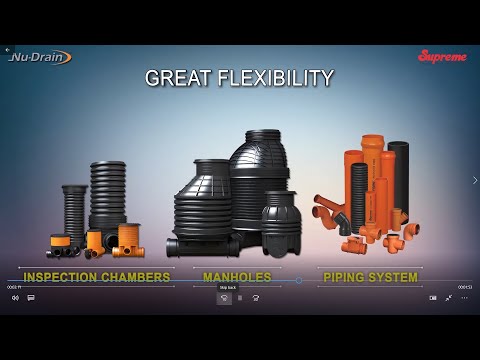 Product Usage Guide
Installation of Nu-Drain Ultra Manholes