Safegard Septic Tanks
The Supreme Safegard® septic tanks are designed to provide a better substitute to existing conventional brick and mortar septic tanks or tanks made out of Hume pipes. Conventional septic tanks are associated with multiple problems of corrosion and leakages, thereby polluting soil and groundwater. Besides cumbersome and time-consuming construction and repeated maintenance requirements, the life span of these concrete tanks is short and uncertain. On the other hand, Supreme Safegard® septic tanks are free from the above problems and offer many outstanding features.
Safegard Septic Tanks are available in two designs i.e. Vertical and Modular. Tanks up to 3000 litres have vertical design, whereas capacities from 5500 litres have modular design. Different modular units can be connected with each other for increased capacities up to 29500 litres.
FILTER
Rotationally moulded, one-piece construction - Supreme Safegard® septic tanks are manufactured by a rotational moulding process which produces a one-piece, seamless, watertight product.
Unique design - Safegard® septic tanks have a unique single-piece two-chamber patented design that allows for vertical settlement of the solids and is found to be much more efficient than conventionally built septic tanks.
Great strength - Robust in design with a unique rib structure provides superior structural integrity to the tank. Making it very strong to meet various loading and handling requirements.
Simple and quick Installation - Safegard® ready to use septic tanks are light in weight making the installation very simple and quick. The minimum requirement of excavation further saves a lot of time, energy, and costs. Installation of these tanks can be carried out even by unskilled workers with little training. Any Safegard® septic tanks can be transported to the job site in a pickup van that needs just two people to carry them.
Excellent chemical resistance - Unlike conventional tanks, polyethylene is unaffected by soil chemicals and the chemicals and gases present in sewage. Therefore Supreme Safegard® septic tanks do not rust or corrode and require no additional coatings. Safegard® septic tanks are absolutely safe against the ill effects of hydrogen sulphide (H2S), a common problem with masonry or concrete septic tanks or the ones made from Hume pipes. Manufactured under strict quality guidelines, Safegard® ensures an environmentally safe septic system.
Hygienic and safe - It is 100% watertight and hence guarantees against leakages preventing soil and groundwater pollution.
Minimal maintenance required for these tanks saves time and costs.
Long life - expected to last 50 years i.e. the lifetime of a building under ideal conditions.
Ready to install complete pre-plumbed set - Safegard® tanks are supplied as a complete set with necessary accessories like inlet and outlet connections, rodding eye, extension piece, cover, and watertight seals on all joints. Thus, the tank that you receive is ready for installation.
Other features of Supreme Safegard® septic tanks - (a) Free from corrosion and subsequent infiltration and ex-filtration problems. (b) No root penetration. (c) Minimum space requirement – Being available in a ready-to-use form with a vertical design, these tanks can be installed in minimum space with minimal excavation. (d) Can be relocated. (e) Eco-friendly.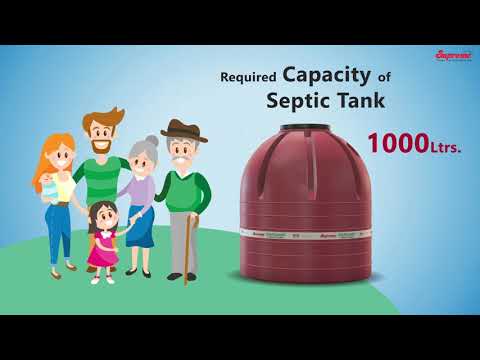 Product Usage Guide
Installation of Safegard Septic Tanks