Siltank Overhead Water Tanks & Loft Tanks
To meet the demand, we have introduced superior water tanks under the brand name, Siltank. Supreme Siltanks are made using virgin raw material in capacities from 100 to 10000 liters. Siltank overhead tanks are available in two-layered, three-layered, and four-layered designs in different colours including the ISI variety in black colour. The white-coloured four-layered tanks are thermally insulated using a foam layer to reduce the effects of sunlight keeping water cool in summers and preventing it from getting too cold during winters. Loft tanks in different sizes and varieties have also been made available to complete the range. Besides being elegant, the design of these rib-structured tanks made from a special compound makes these tanks much stronger and more durable. Siltanks are much superior to any other water tank available in the market in terms of strength and performance. In short, Siltank is a value-for-money proposition that delights our customers.
Siltank Overhead Water Tanks are available from 200 to 10000 litres capacities in two, three and four layered designs in different colours. Loft Tanks are available from 100 to 1000 litres capacities.
FILTER
Rotationally moulded for maximum strength and better performance.
100% virgin raw material - Promises superior quality and a long-lasting performance.
Strong and durable - Unique and innovative design of the ribs makes it strong and sturdy as compared to regular products available in the market. This unique feature gives an edge to the Siltank over others preventing it from bulging when filled with water. Siltank has a very good impact strength and is virtually unbreakable.
Thermal insulation - The provision of a foam layer in the tank improves the insulation and keeps water cool in summer. It also prevents water from getting too cold in winter by maintaining a temperature difference from the environment.
UV-stability - UV stabilization prevents the degradation of materials due to the adverse effects of ultraviolet rays and ensures that there is no cracking or loss of physical properties.
Suitable for drinking water - The use of food-grade virgin plastic ensures its suitability for potable water as the quality of water does not get affected even when stored for a long period.
Easy installation - Built with the provision of hooks for lifting the tank to higher floors makes installation comparatively easier.
Strong covers - Specially designed injection moulded covers are much stronger and their simple threaded design provides ease in opening and closing
Full capacity guaranteed - Unlike commercial tanks the storage capacity of Supreme Siltank is equal to or exceeds the stated capacity. You get what you see.
Assured quality - Rigorously tested to ensure quality. Meets and exceeds all quality parameters as specified in BIS.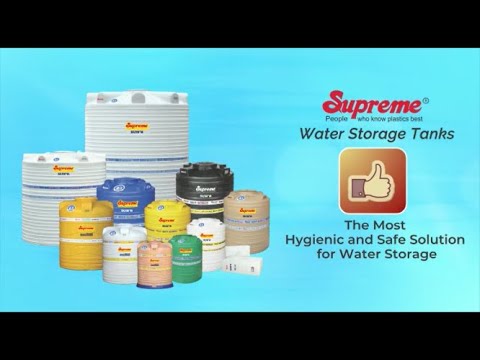 Product Usage Guide
Installation of Siltank Overhead Water Tanks & Loft Tanks