WeatherShield Premium Overhead Water Tanks
After an encouraging response to the Siltank - overhead water tanks and Amrutam - underground water tanks, we are pleased to offer yet another unique quality product i.e. premium water storage tanks under the brand name of WeatherShield. These first-of-its-kind premium overhead water storage tanks are designed to offer many best-in-class features to meet the requirements of the elite class of customers. WeatherShield tanks are made available in five-layered designs with an extra thick foam layer to make them extra strong, durable, and most importantly to offer superior thermal insulation properties.
Premium quality Weathershield Overhead Water Tanks are available from 500 to 1500 litres capacities in five layered design in three different colours.
FILTER
Rotationally moulded - for maximum strength and superior performance
100% virgin, food grade raw material - Besides long-lasting performance and superior quality it promises 100% safety and suitability of drinking water and liquid foods even when stored for long durations. Unlike commercial tanks made out of reworked material, stored water in the WeatherShield remains unaffected and free from any taste, odour, or colour.
Superior thermal insulation - Five layered design with the use of an extra thick foam layer and insulated covers ensures superior insulation properties and thus it keeps the water cool in summers and reasonably warm during winters. Lab tests have revealed that there is 20° C temperature difference between water and the ambient temperature.
Antibacterial - WeatherShield tanks are 100% hygienic and safe as the antibacterial grade raw material used for the inside layer does not support bacterial growth.
All weather resistance - Outer layer made of UV-resistant material helps to prevent degradation due to the effects of ultraviolet rays and keeps it free from any crack development or loss of physical properties.
Strong and sturdy insulated covers with inbuilt locking provision - Specially designed rotationally moulded threaded covers are not only strong but also very easy for opening and closing, more importantly, they are provided with an inbuilt locking provision to safeguard the water against water theft and contamination.
Provided with water level indicator and pump controller - Provision of water level indicator helps in controlling the water usage. The pump controller automatically stops the pump when the tank gets completely filled with water avoiding overflow. This function not only helps to save precious water but the energy loss on account of its pumping.
Provision of air vent with SS mesh - This helps to maintain the quality of water by allowing the entry of fresh air inside the tank besides restricting the entry of flies and mosquitoes from being entered into the tank.
Extra strong and durable design - Elegant and sturdy 5-layered design makes the tank more tough and strong to withstand environmental changes and protect it from bulging when filled with water. These tanks have good impact strength and are virtually unbreakable.
Readymade base plate for easy installation - Looking at the requirement of a readymade platform to directly place the water tanks over it, we have introduced readymade base plates. This will not only eliminate the dependence on masons for installation but will also provide a firm, levelled, and sturdy platform for the tanks. It makes the installation simple and fast.
Provision of inbuilt hooks - Ease the lifting of the tank to the higher floors.
Assured quality - Rigorously tested to ensure superior quality. Meets and exceeds all quality parameters specified in the BIS Standard.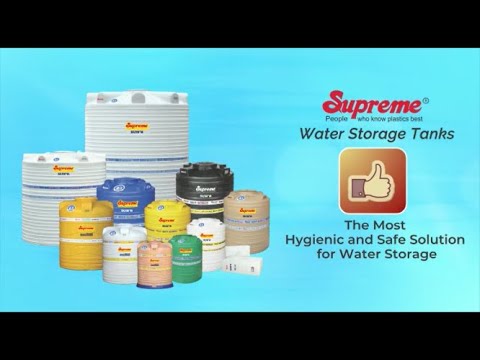 Product Usage Guide
Installation of WeatherShield Premium Overhead Water Tanks